Website
Platform Name

Earnify
Traffic Types

Native
Other
Minimum Deposit

100
Payment Types

Wire
CC
Email

help@earnify.com
Launched in 2014,
Earnify
is a demand-side platform connected to all major native advertising networks, allowing you to scale your campaigns faster than ever. Advertisers leverage our DSP to simplify and scale their native media spend.
Benefits of using Earnify
Reach: Direct programmatic integration with over 30 networks amounting to almost 20 billion bid requests being processed daily by our DSP
Transparent In-Depth Analytics: Our platform is completely transparent, meaning that you will be able to see which websites you are bidding on in real-time, in the time zone of your choice.
One Dashboard: Use our clean backend to manage all of your native advertising campaigns in one place.
Fraud Prevention: Every request is scanned by multiple fraud detection technologies to ensure you are only ever bidding on quality traffic.
Campaign Duplication: Easily duplicate a RevContent campaign to target Ligatus within seconds, instead of having to use 2 platforms with 2 completely different campaign creation processes.
Consolidated Billing: Buying through a DSP instead of each individual network consolidates your billing into one profile.
Bidding Models: CPC/CPM (Native) CPC (Push)
Real-time Stats: Because programmatic advertising utilizes real-time bidding, we have the ability to present your stats in real-time. No need to wait hours to check your stats on 4 different backends, view all of your data in real-time on one unified dashboard.
Timezones: Easily check your stats in any timezone of your choice.
Manual Optimization: Whitelists and blacklists with bid modifications per site.
Extra Reach: Already buying from one of our supply partners? Buy more from them by utilizing our real-time bidder.
Fast Ad Review Times: Our QA team works 24/7/365 to ensure that ads are reviewed fast, even on a Sunday.
Conversion Optimization: By utilizing our machine learning technology, our system will automatically start to favor publishers generating the most leads for you.
Service: Due to our programmatic nature, Earnify only works with advertisers, meaning you will have a dedicated account manager available regardless of spend to help you harness our platform.

AffiliateFix Promo

: Use the promo code "AFFILIATEFIX" to get 20% bonus when depositing $200 or more.
Who is Earnify connected to?


Native
Admatic
Admixer
AdsKeeper
AdYouLike
Geniee
Improve Digital
InfoLinks
Kargo
Ligatus
LiveIntent
MGID
Mobfox
My6Sense
Nativo
Outbrain
Polymorph
PowerInbox
Pubmatic
Quantum
ReklamStore
RevContent
Sharethrough
Smart AdServer
Taboola
Tagon
TripleLift
YieldMo
Push
AdMaven
AdOperator
AdsKeeper
Adsterra
EvaDav
Megapush
MGID
PropellerAds
The above list was last updated 10th July 2019.
Pictures speak a thousand words, so we'll leave you with some screenshots of our platform: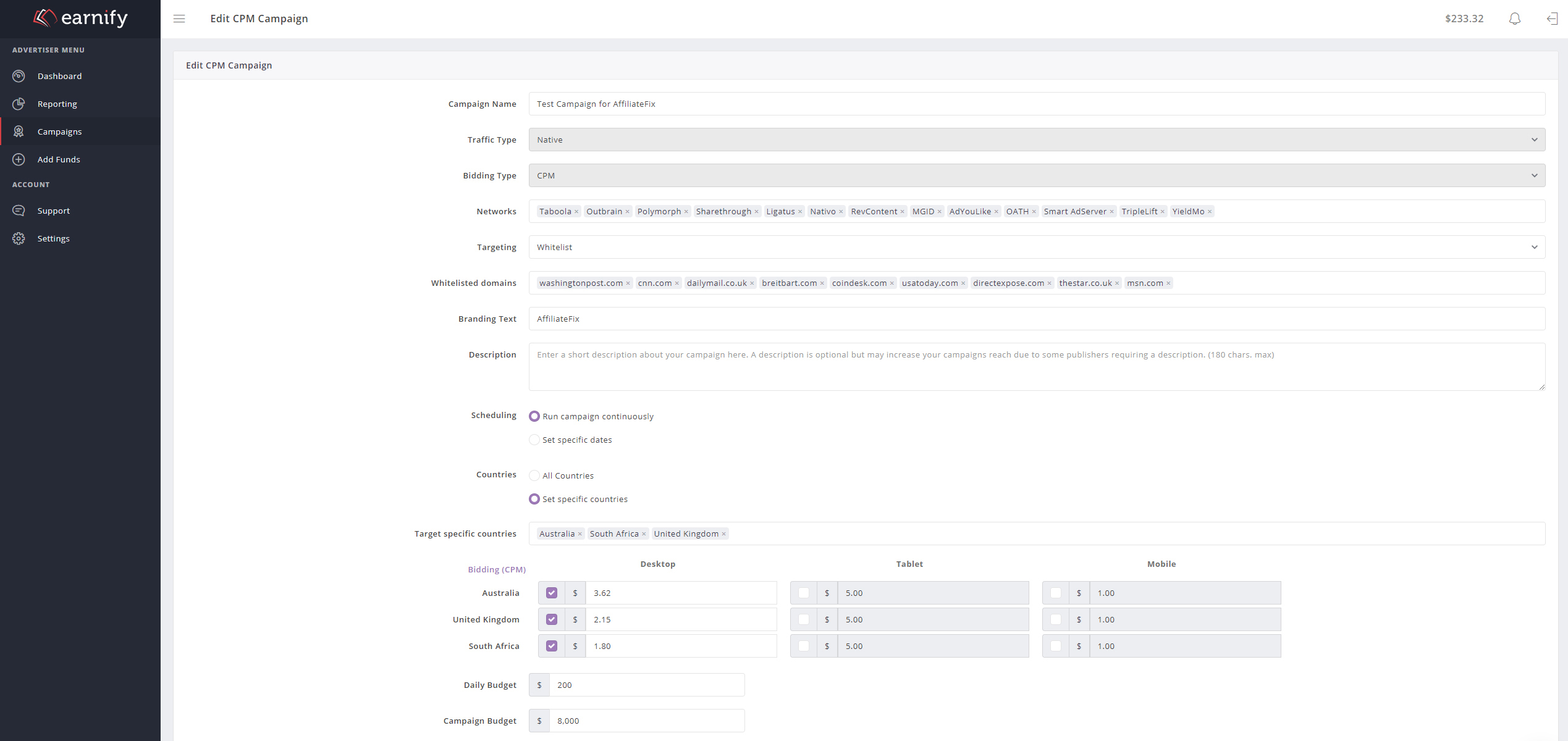 All campaigns must comply with each individual SSPs guidelines, for example, if you wanted to advertise on Taboola - your campaign and creatives must comply with their guidelines.
You can see our general guidelines & policies which apply to most premium SSPs here:
Guidelines & Policies | Earnify Help Center