Affiliate Manager
Affiliate Manager
Traffic Manager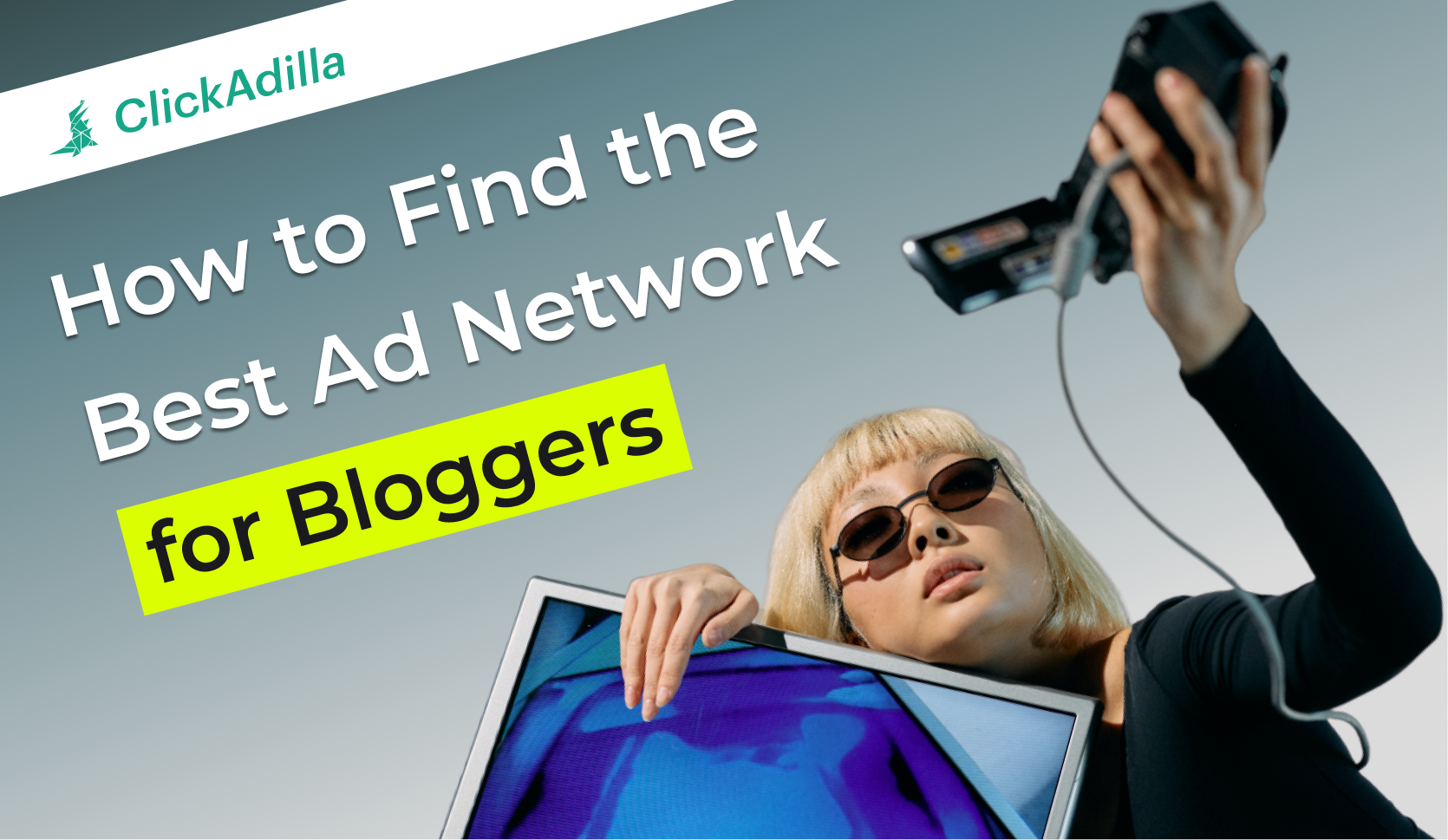 How ad networks for bloggers can help you expand your influence on affiliate marketing
You have clicked on this article, so it is easy to guess you are interested in looking for the best advertising platforms, that is why we offer you to talk about the best ad networks for bloggers.
If you have already started blogging, you have probably already thought about promoting the blog to a wider audience as well. If you relate to this, it is the right time to think about the possibility of earning money from your blog as well. So you have ended up in the right place. Keep reading the article to understand how ad networks for bloggers can help you expand your influence on affiliate marketing.
When it comes to searching and choosing the best advertising platforms for bloggers, it is important to realize that the decision can directly affect your promotional strategy and the final results. Eyes diverge with the differences and number of adverts networks out there. This is quite logical, as advertising platforms can differ significantly in many ways, such as the price per 1,000 impressions or the availability of useful tools for precise targeting.
What are the benefits of ad networks for bloggers?​
Nowadays, one of the easiest, fastest, and most effective ways to monetize your blog is media advertising through ad networks for bloggers. An advertising network allows a blogger not to limit his or her abilities by selling standard advertising only.
Using the platform, a blogger can try out a different promotion strategy through affiliate marketing.
Sponsorship opportunities also open up for blogs' owners, which helps in generating decent revenue and increasing the return on their investment in social media development.
As we all know, blogging has become a real profession with no earnings limits. And undoubtedly every day more and more people have been thinking about making blogging their main job. But it does not work out for everyone. Why? Now there is a huge competition and promoting yourself as a blogger is becoming more and more difficult, so you need to look for new options for promotion.
The high competition encourages bloggers to fight for every result in the form of subscriptions, likes, and reposts. So if you have your blog, then you know the value of every tiny bit of promotion.
The majority of revenue from social media is owned by bloggers, so the rapid increase in competition is obvious and understandable. And that is the main reason why advertising network can become a strategic advantage and key to monetizing views. This opportunity may not only be relevant for large blogs with millions of followers. Advertising platforms can be lucrative even for newcomers, who desire to grab the profit from blogging.
Filling advertisement spaces is a definite plus in helping to expand the blog's capabilities. But are there more pluses of the ads network? Absolutely! When you sign up for an ad platform, you leave all workflow issues to the network itself. This means that the advertising platform completely manages your ads, and filters the settings so that your audience only sees adverts that could potentially be of interest to them.
So your main task becomes choosing the best ad network to which you entrust your ad space.
If you are already blogging, you probably realize that you should not overfeed your viewers with large amounts of advertisements. You do not have to worry about this because the control is still in your hands despite optimizing the process. You can set a certain number of ad places on your blog focusing on the behavioral characteristics of your audience and niche specifics.
How do ad networks for bloggers work?​
Now you understand the benefits much more clearer, we suggest you find out what the work processes behind ad networks for bloggers are. If a business owner wants to advertise the product and attract new potential customers, he or she can place an advertisement on an ad network. And in this case, the ads platform becomes an intermediary between the blogger and the product or service.
That is, the adverts platform has accurate analytics to determine the niche and cost of advertising space. The logic behind determining pricing is simple. It depends on the amount of traffic: the wider blogger's audience brings the higher advertising price. And as a consequence, the higher traffic brings higher income from the blog.
It's also worth mentioning that some adverts networks offer different tools and access to higher-paying offers.
To understand more accurately how media advertising works, we suggest you figure out the process step by step:
Simply put, the first step is to start blogging. This point includes creating interesting and useful content for viewers, pure promotion without bots.
When your blog starts to get readers, you can start doing searches for advertising platforms. If you take an ad network's services, you can sign up and offer your advertisement space.
There is an opportunity to advertise products according to your niche. For example, if a marketer or business owner sees that your blog is about hair care, he or she obviously will not try to advertise boat motors there. But your adverts space will attract those marketers who are targeting ads for beauty products or services.
How to make money from media ads?​
If you have already found the best ad network for bloggers and signed up, then it is time to filter your profile settings. If you have done these previous steps, then you can move on to the issue of making money.
You get the income for every targeted action your audience makes with advertisers' ad campaigns. As a rule, advertising platforms provide two payment options:
PPC or in other words pay-per-click. That means you get paid for the fact that your audience watches the adverts campaigns and clicks on them.
Another frequent format is PPV, which means pay-per-view. In this case, you can get paid for reaching your audience regardless of targeted actions. But this format has its own peculiarities, for example, as a rule, you get a fixed payment per 1,000 impressions, so you can assume a potential income by analyzing your current audience reach. But what if you place several ads on your blog at the same time? Fortunately, views are considered to be every appearance of an adverts creatives on a blog.
How to choose the best payment model?
Bearing in mind our experience, we can tell you that the difference may be significant. We recommend paying attention to the behavior of your audience. For example, if you have thousands or millions of visits, a pay-per-view format may be the best solution. But if your blog is quite small still, we recommend testing both formats and choosing the one that is the most profitable for you.
If you are a beginner at using the ad network, we recommend you ask your personal manager to find the best format for your blog. As a rule, managers can give you the support with full explanations.
The recommendations​
As we mentioned above, it is very important to choose the best ad network for bloggers, as your choice may affect further results. For example, you can make a mistake and receive less profit than you could under other circumstances. Therefore, we recommend you take into account all the nuances in choosing the best advertising platform you entrust to.
Unfortunately, there are no special rules for choosing the best advertising platforms. We have put together a few simple tips that can help you decide whether to cooperate with an ad network. Here's a list:
Easy and clear interface. You can understand where the necessary settings are and how to get support, it may simplify your workflow.
Is the income offer below the market average or above? Agree, it would be sad to find out you could earn much more money than the platform offers.
How quickly does the personal manager give feedback? Do you get the complete solution in the answers? A personal manager is your first support on the advertising network, so it is important that you are satisfied with the quality of service.
Let's be honest, ad networks are interested in you continuing to partner with them. Therefore, each advertising platform does its best to provide quality services to a blogger. After all, the total income grows from the total interaction.
Benefits of taking ClickAdilla's services​
We wish you to find the best advertising platform for bloggers to make the potential of your blog come true as fully as possible. And we are honored to invite you to cooperate with ClickAdilla. We present to you a list of a few key benefits of working with our advertising platform.
The ad network is international, so you have a wide range of advertising opportunities. To be clear, every day the audience reaches over 5 billion in 240 countries! These are incredibly high rates, so you are not limited in any way in developing your advertising business.
The interface of your account is very simple and you will understand it without any problem.
Our main goal was to create a convenient platform where publishers and marketers can collaborate most effectively, without wasting time trying to figure out where to click to find something. The platform is intuitive.
Even if you have any difficulties, you can always ask your personal manager for help. The support manager will always tell you where to find certain tools, and how to filter the settings correctly.
In addition, you can set an appropriate language for the advertising platform. ClickAdilla presents a choice between 5 languages: English, Spanish, German, Russian, and Japanese.
The ClickAdilla provides the ability to work with 13 advertising formats, such as Popunder, In-page/Sticky, Interstitial, Banners, In-app, Web-push, In-stream, Out stream, Video slider, iOS calendar, Native Ad, and Tab-direct Link That means you can sell advertisement space regardless of your blog type.
You will be able to offer marketers an advertising space for suitable formats.
There is access to premium traffic in all major niches, including adult and mainstream traffic. ClickAdilla offers working with verticals that are rapidly developing regardless of conditions, weather, economy, and so on. Broad audiences coverage of all ages and both genders.
There is an option to use DSP traffic to connect third-party resources and buy traffic at the auction prices without any margin.
A lot of convenient advertising tools, such as advertising trackers. Trackers are quickly and easily set up in a couple of clicks.
ClickAdilla tries to make the cooperation as comfortable as possible. Therefore, there are more than 10 payment and withdrawal of funds options. There is also the possibility of using cryptocurrencies.
But the benefits don't end there!
ClickAdilla has a unique tool called a Marketplace. With it, marketers can buy out the whole traffic on a particular site. This tool is an absolute novelty in the affiliate market but has already managed to show excellent results. We want as many people as possible to get acquainted with Marketplace's capabilities, which is why you can purchase traffic at very low prices.
You can learn more about ClickAdilla's Marketplace by reading our articles or asking your personal manager.
Conclusion​
Nowadays, advertising networks have become a worthy assistant in promoting your business and making good money. Ad networks are for everyone, regardless of market position:
If you are a business owner and offer a service or product, then you can find affiliate advertisers who will bring you the target audience and potential customers. Or you can increase your brand awareness as a marketing strategy.
If you have a blog, then you can sell advertisement space. And what is more, you can start making ads campaigns for your blog yourself to broaden your market business. When you earn adverts revenue, you can set aside a part of your budget to grow your blog and increase your income even more. That is, ad networks may be of interest to you not only as a publisher but also as a marketer.
Well, if you do not have a business product or a blog, you can find others' offers and advertise. So you can get paid for every time a target audience makes a targeted action.
We wish you to find the best advertising network for bloggers and increase your income. And remember that ClickAdilla is always at your service so that you can lay down the best foundation for your marketing development here and now.