Website
Platform Name

Binom Tracker
Price

$99
Payment Types

Wire
Paypal
CC
Other
Email

info@binom.org
Binom is a fastest self-hosted tracker for professional affiliate marketers.
The main idea is to reduce the user's work time with the tracker, optimize all operations to work with advertising campaigns and save the user's time due to quick work of our thoughtful interface. We strive to enhance any functionality that will help to increase the profitability of our customers' campaigns without overloading the product. We base on practical tasks in affiliate marketing, because we spend more than 9 years in this market.
Binom is a product from professionals to professionals
, without any unnecessary garbage, inconvenient interface and long waiting.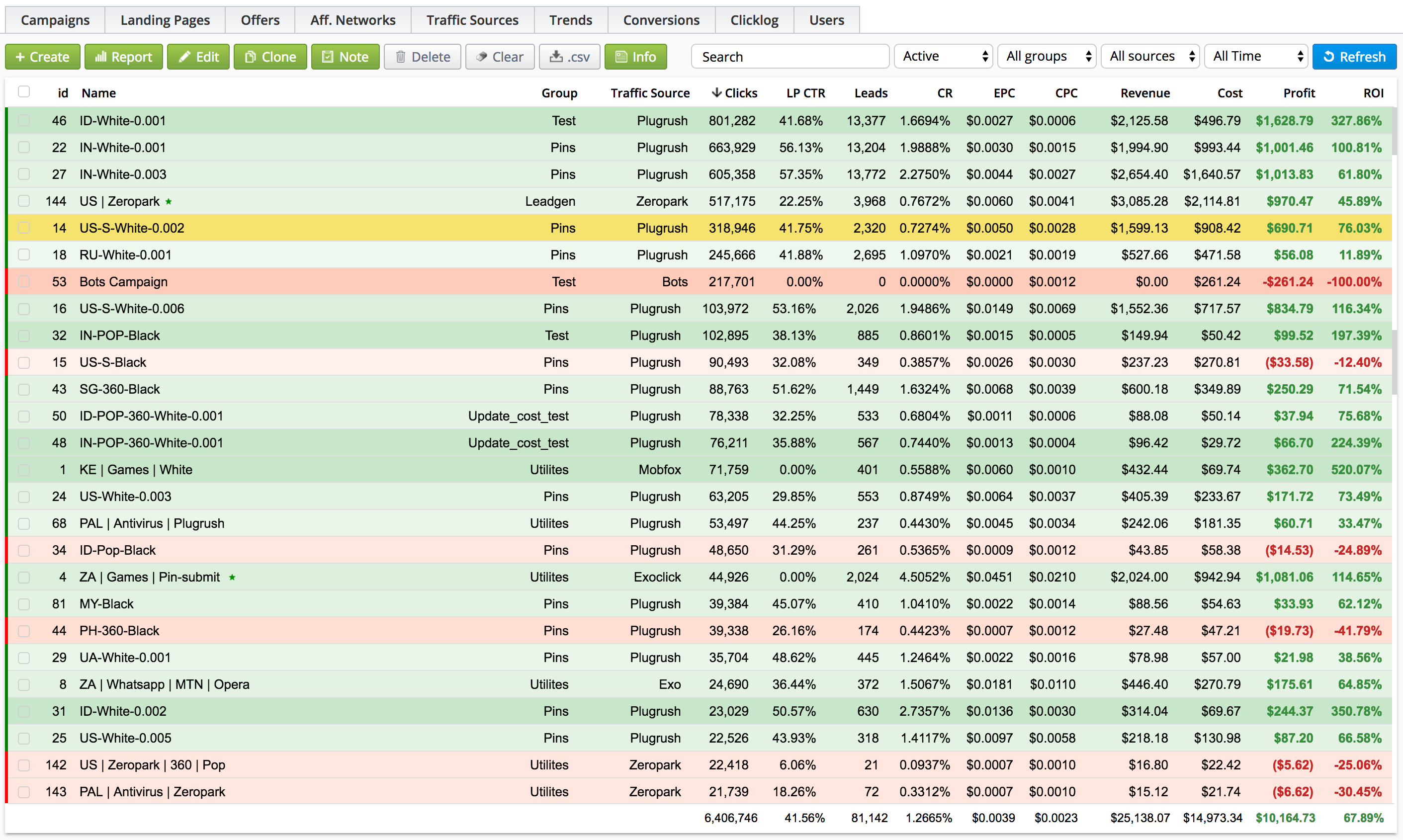 Our main advantages are:
-
Holds any loads
, you don't need to increase number of servers or improve them. In 99% of use cases even for pop-traffic ordinary dedicated server for 50 euros will go. The license cost does not depend on the amount of clicks, so on high volumes you will have thousands of dollars of savings compare to cloud-based trackers.
-
The highest speed of statistics generation
among all trackers. All reports with rare exceptions are generated instantly. Time to build a report does not depend on the total amount of clicks in the database or in the campaign (which is probably the disease for all self-hosted trackers), your tracker will not start to lag on large databases. Report generating speed depends only on the number of clicks to process, and this dependence is nonlinear. There is no need to delete old clicks if there is still space on your disk.
-
Minimal time of redirect
, which is not depend on volume. Again, current self-hosted trackers suffer from the fact that when they are under heavy load on the database, they lose the redirects speed, which leads to a drop in ROI. This tasks are divided in our tracker, you can constantly refresh your statistics and create heavy reports, but the redirects speed will not suffer from that, and the amount of clicks in database is also will not affect on it. Most importantly, the redirects speed is not affected by the volume of your traffic. The average redirect speed is 5-7 ms, on servers with SSD it could be even less. As far as I know, this is the best result for now. This allows you to improve ROI of your campaigns significantly.
-
Multilevel reports
. Of course, you can find them in almost all trackers. But only ours can generate a report on a very narrow segments, displaying hundreds of thousands of lines per second, without restrictions on groupings.
-
Group work with campaigns, landings and offers
. At the moment you can see the statistics and delete a group of campaigns. Group change of landings is also available, for example, domains for all landings.
-
Smart Rotation
. Allows you to distribute traffic along the paths/landings/offers not by random order, but with taking into account the click uniqueness and the offer conversions.
-
Distribution rules, including by IP and UA
And by uniqueness, time, proxy, URL, GET, all that is necessary for cloaking. Report by rules is also available, so you will see how many clicks corresponds with particular rule.
-
Filters system in statistics
. No need to download CSV, open it in Excel or in your scripts and filter. You can create filter in the tracker. Smart filters are also available, the will provide you with exact white and black sheets based on the formulas of probability theory.
-
Tokens tagging
. You can tag publishers that have been sent to black and white lists, so you could take a closer look. Mark stopped ads, OS, traffic types. In addition, it is possible to filter statistics using these markups, including by API.
-
No-redirect tracking
. So-called integrated landings, that are integrated into the tracker and opens without redirect, immediately by the campaign URL, as well as LP Pixel, which allows you to send traffic immediately on the landing with full statistics available by it on the tracker.
-
Landings events tracking
. The ability to transfer any information from the landing to the tracker, as well as exit points from the landing.
-
Trends
section with statistics by your traffic, group of campaigns, sources, days, weeks, months, etc. Beautiful graphs include.
-
Convenient API
for reports output, updating clicks cost and working with offers or landings. Also, you can connect your preset filters to API reports output and receive ready-made black and white lists. API will continue to evolve, gradually all the tracker functions will be available by API.
-
Additional users with access rights
. You can add your employees or colleagues to the tracker and share groups, campaigns, landings, offers, sources, etc. with them. You can close editing rights, or ability to see profit. General statistics by users is available as well as possibility to group reports by them.
-
Migration from Voluum
. You can transfer all campaigns/landings/offers/flows from your Voluum account to Binom in 5 minutes.
-
Your influence on the product
. We adjust the tracker to your needs, trying to implement your functionality requests as soon as possible. Sometimes even less than in a day. Just write to us. We get really upset when we find out that other trackers don't listen for their customers.
-
Skype-support
. We will gladly answer to any of your question, regarding to the tracker or affiliate marketing. We try to be online always, even at nights. In office from 9 to 21. And we also will install the tracker and all the necessary environment on your server for free.
... and many-many others.
In the near future:
- Multi-conversion for tracking e-commerce, internal events in applications, email-marketing, etc.
- Customization of the statistics table system
- Work on visualization
- Cost updating by tokens
- Integration with traffic sources and partner networks
- API extension
Where to look at?
Here you can see live demo.
How to buy?
The cost of the first license is
$99/month
, additional (for the 2nd and subsequent servers) -
$49/month
.
We have discounts for a prolonged extension.
3 months - 10%, 6 months - 20%, a year - 30%.
Free tracker and server install!

For all questions please contact our support by skype:
binom.support