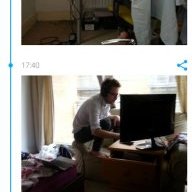 Gender:

Male

Location:

Occupation:

Affiliate Marketer
timetomakelifehappen
Affiliate, Male, from London, UK
affiliate
Hey Just Joined, from London Looking to meet people. Aug 24, 2015
timetomakelifehappen was last seen:

Sep 5, 2015
Loading...

Loading...

About

Gender:

Male

Location:

Occupation:

Affiliate Marketer

Hey,

I'm 29 years old from London, and looking to meet up with people.

I've been working as an Affiliate Marketer, mainly working with my friend in his office in Greenwich, London setting up E commerce sites, landing pages, niches, working with traffic sources, and sometimes affiliate offers, sometimes running our own offers. This has been the past 3 years of my life.

Prior to that, back before 2013. I managed a series of Niche Sites, and businesses that took me years to develop, these were in Hypnosis, PUA, NLP, persuasion, trying to think of other things that we did. I ran training courses, built forums, SEO, Facebook Groups, retargeted traffic, shared email lists with other people in the business, did joint ventures. Yeah loads of stuff, I did that since I was 16 years old full time.

Right, I want to 'feel' like an affiliate marketer, all the stuff I've always done has been about a few websites, or building a quick landing page for some traffic we are trying out, but I've never made a living promoting offers, it's just something I've done occassionally, and when I have done it, I didn't usually do the ENTIRE process as we'd split tests between my mate and I, and outsourcers (particularly for SEO)

So, I feel like I don't know so much stuff, currently I'm not working with my friend, instead I'm trying to run my own stuff but I seem to never really get round to it, instead I'm developing a Health Foods ecommerce store for like 30% commission on any products we sell, but I haven't fucking even started buying traffic yet, and even when I do I look at all the traffic sources and then start thinking, nah, I don't want to, I'll just play safe and buy Google traffic.

I should also mention I don't have much money, I have around 600 pounds a month to spend on products.

Thanks for listening,

Would love to meet up. talk on skype, build a mastermind group and get to know people.